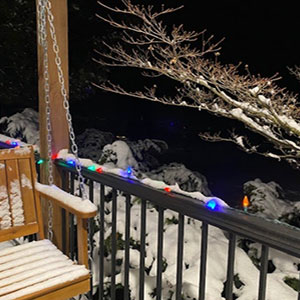 As fall comes to an end I'm sitting on the farm surrounded by freshly fallen snow. It's as though the universe is painting a visual for this season of life. These past few months have been extremely difficult for me. In the middle of a growing pandemic and the pressing matter of racial inequality, I know I'm not alone. Collectively as a nation and world, we've had to adapt overnight to changes in our culture, find ways to address what seems like trauma after trauma, and somehow keep putting one foot in front of the other. Yet life is still around us, no matter the valley we're in.
As a business owner of a company that makes my heart swell with pride, there are so many things I want to tell you. I want to tell you about the years before Instructional ABA Consultants was born–what it was like to hold the hands of mothers whose children were being institutionalized. I want to tell you how Applied Behavior Analysis changed everything for each and every client I worked with. Of my deep love of a man named David, my favorite client of all times.
I want to explain how through tears, sweat, heartache, brilliance, vulnerability, and grit my company was shaped; this came from me and the employees who built it. I want to create resource after resource for children with autism, families of these young children, and each person in the world who feels like their voice doesn't matter. All of these things burn inside my heart.
Yet today, my win was that I got up without crying. Was this anyone else's win?
Taking Time After Trauma
In the middle of trauma or in coming out of trauma it's easy to expect ourselves to quickly go "back to normal." I remember this vividly when I was awakening from postpartum depression after Henry was born. I was so joyful to feel like myself again. I wanted to pack my days with everything "Jessie" I could think of. Doing this, while very tempting, would have flattened me. In coming out of a depression I had to honor what my body and mind had been through. To choose wisely what I would add to each day.  
So what is normal and how do we choose what to add? Today we're all so indicated by social media and marketing telling us what our lives should look like. On top of that, we're socially conditioned to be a certain way or want certain things based on our gender, race, sex, and age. There are so many opinions swirling around us on who we should be and how we should behave. Trauma, like the COVID-19 pandemic, threatens this unnatural order.  
Many of us were on autopilot prior to COVID-19. Then we were forced to stop. I believe this is true with any trauma or major life event. It could be a cancer diagnosis, the loss of a loved one, an injustice toward a loved one, a divorce, your own mental health taking an unexpected turn, financial upset–the list goes on and on. Trauma is part of our lives and it's the part of our lives we don't talk about enough.
The scariest part? If a person does speak up about their own personal traumas, the systems supporting us or the people around us often bring shame. Shame to keep us small and silent. If you feel pain, scared, or threatened don't ever let anyone tell you to stay quiet. Speak up every single time regardless of what others say around you.
What We Can Do to Recover
So what can we do? What can I do as 2020 comes to a close and the pandemic we thought would be over by June continues? Wasn't it just yesterday I was laughing about toilet paper and schools closing over margaritas with friends? We honor the season then get the hell out when it's time to get out. That's what we do.
Winter comes every year and our busy-ness becomes harder to keep. COVID took much of that busy-ness already. Personally, I hope it never comes back. This season of stillness is a natural order of things. We as humans are not meant to be on high speed every second of every day. We are also not built to impress and conform. We're built to breathe freely, live freely, and love fully.  
To do this we must honor where we are in life and love ourselves just as much when we're crying on the bathroom floor as we do when we've achieved a goal. Grief comes for all of us. When we can offer ourselves compassion and grace the season is honored. On the other side of winter is spring where the flowers grow. Yet if we spend our lives wishing for beautiful flowers we'll miss the cold beauty of a bare tree.
A new season is coming. Sit here darling ones. Hold your heart if you're crying and take a moment to breathe the sweet winter air.
Xoxo,
Jessie