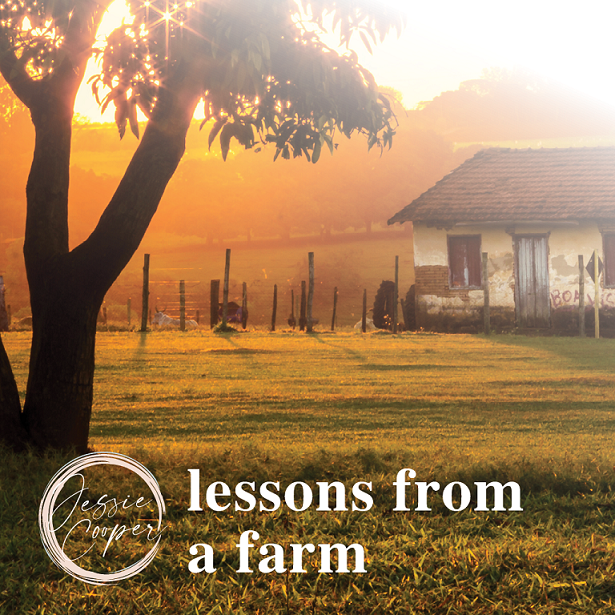 Growing up my grandparents lived on a farm in northeast Ohio about an hour from my parent's home. During my childhood, the farm was my happy place for so many years. As a child fitting in was not my strong suit and I didn't have the wisdom I possess now that fitting in is never the goal; belonging to our own hearts is. Whenever we visited my grandparents I felt at peace against the chaos of the world. I suppose I knew a little about belonging because on the farm I felt it. 
As a child every summer my parents would take us for a week to learn and live with my grandparents. My grandma Virginia was a beautiful quilter and wanted to teach all her grandchildren to sew. Kristen, my sister, took to this quickly and to this day has a quilt rack in her office. Me? I am perfectly capable of sewing (thanks grandma) and it literally makes my stomach sick to focus on details that small. To this day I also still take my sister my mending pile.
Country Living
To escape the task of sewing I trotted at the boots of my grandpa Bob and did whatever chores he was doing. Each morning before the sun would rise we would get up and put on our "shit" boots then head down to the barn. I would pull the hose bringing water to the chickens, pigs, sheep, cows, goats, ducks, and my favorite; the cats. We would scoop food together, muck out stalls and make sure all the animals were ready for their day. After our early morning activities, my grandpa would pour me a bowl of cereal, slap it onto a metal tray, and we would watch whatever farming show was on in the morning on the shaggy carpet of their living room. Throughout the day I would drag buckets of water to my grandpa as he planted and by night we would rock on their porch swing eating popsicles made from my grandma's grapevine. 
I was in love with this life. Walking through the fields, watching the animals, nursing bottle-fed sheep in the morning, and kicking off my very important shit boots right alongside my grandpa. There was never a moment when there wasn't something the earth needed or wanted. My grandma told me on a farm that the work is never done, it is waiting for its keeper. When summer ended we would visit the farm about twice a year to see my aunts, uncles, and cousins. Traditions of their own came with the holidays and gathering with my family, while different from me, filled me with quiet gratitude.
In the spring of 2020, my marriage was at a critical juncture and at the same time the world shut down for 12 weeks. I was at home terrified daily for my business in the first days of the pandemic and I knew in my heart that something had to change in my life. I had spent the last decade in Illinois building my business, making friendships that will last a lifetime, and becoming a mama to three beautiful boys. At the time I didn't know my marriage would end but I did know I needed a happy place and missed my family dearly. I then did something that to this day I don't know if it came from wisdom or fear. I bought a three-acre farm in Johnstown Ohio sight unseen in 24 hours. My children and I moved to the farm in August of 2020 and within a month I separated from my ex-husband.
Re-Discovering Life in the Country
The past two years have been nothing short of painful but they have also brought me incredible joy. I am a woman who always has to know why and to this day I'm not really sure why I'm here in Johnstown or bought the farm. The only thing I can settle into is this is our healing house. The family who built this house put such love, care, and detail into the home. Each room of the home has a detail that reminds me of beauty and each acre of the land has something new to explore. When I bought the home, I slid open their junk drawer to find a piece of paper to say thank you. Instead, I found this, "Have the Heart of A Shepherd and the Spirit of a Warrior." It felt like my soul's mantra and is now on a painting in my office. This home has wisdom I do not yet carry.
When I bought the farm I thought I could replicate the farm my grandparents made for our family. I imagined the 4th of July with my cousins, weekends with my aunts and uncles, and a deep gathering of family members. When I left my marriage some of my extended family turned on me claiming I was either lying about the reasons I was leaving my marriage or breaking God's plan to follow the man in my marriage. The rest of my extended family either went silent or attacked my beautiful father for supporting his daughter.
It wasn't the loss of my marriage that broke my heart, it was the loss of my family. It wasn't until what felt like betrayal and grief passed that I realized I couldn't lose what I never had. I accepted that I loved my family and they did not love me in return and that was OK. This allowed me to choose the family I deserve versus being hurt by the family I was born into. I know I'm more than the pain they attempted to bring to me and still attempt to bring by spending time with my ex-husband spinning hateful stories about me and my dad.
Farm Introspection
On the farm, I've learned a great many things about myself, how to be present, and how to love what is right in front of me. I have also learned that one week in the summer does not in fact give the skill sets you need to actually run a farm. Turns out I really dislike vegetable gardens, have killed my darling black raspberries, and at five Henry has a better green thumb than me with his pumpkin patch and sunflowers. It also turns out that finding time to add any animals to the farm feels like a task I'll never have time for but something my soul is still curious for. Baby steps. This fall I'm going to take horseback riding lessons and actually take Simon, my boxer, back to obedience school instead of buying a puppy. The farm has after all taught me to pay attention to what is right in front of me.
Each day I try to find a piece of time to care for the land or the home. Some days I fail at this and some days I remember. But like my grandma said, my farm is always waiting for its keeper. Life is not what I expected it to be when I moved in night from Illinois to Ohio. There are days I still doubt where I am, what I'm doing, and if I'm making the right choices for my children. In those moments I smile gently to my soul reminding myself to bloom where I am planted
Xoxo,
Jessie Cooper