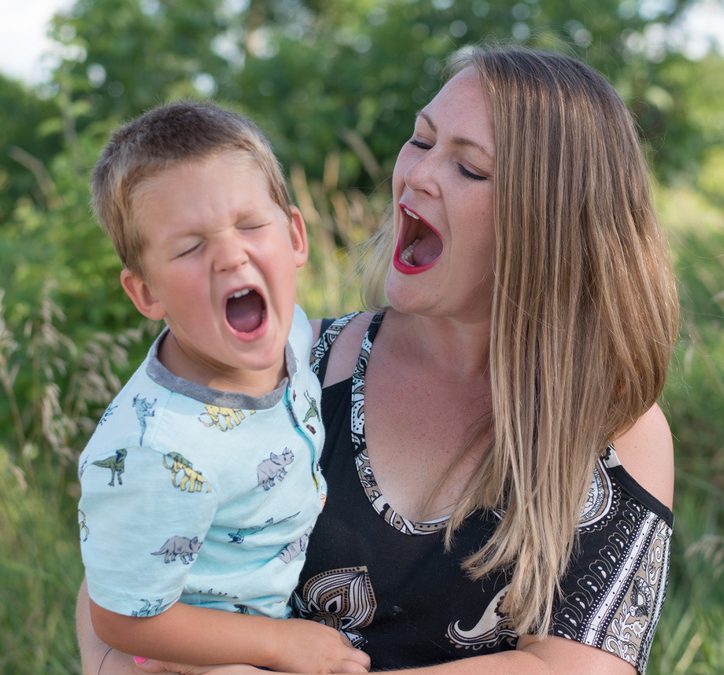 Over the last month, I've written about my own personal journey during COVID to shine a light on fear. This week, in honor of Mother's Day, I'd like to write about parenting during COVID. Personally, I've gone through highs and lows. Some days, I'm so grateful and proud. Other days it's a completely different story. Through all of it, I'm learning to love myself and my boys in the midst of imperfection.
Intentional Parenting
Prior to COVID, I liked to think of myself as an intentional mama. I made a lot of calculated decisions about how I wanted to raise my boys and had some pretty high expectations of myself. I've shared before that when I had Henry I suffered from postpartum depression. As a trauma survivor, I had an added layer of not wanting to do anything to harm my child. Not harming my children in a physical way, I don't worry about that, but in not wanting to make a mistake. From there I spent the better part of 18 months being 100% attentive to Henry when he was with me.
I mean, I was that Mom we all hate. Calculated floor time, zero TV, homemade meals every night, cloth diapers, no electronic toys. I was perfectly happy doing all of this but I didn't do anything except this. I gained being a mama in my heart and at the cost of myself (a bit). Enter Declan (my second boy) and keeping up at this pace was just not achievable at the same rate. I went through an angry phase, being angry at myself for not being able to keep it up. Then I realized while I could love all the different ways I could parent my children, the most important was having a full heart. That I needed to find time for Jessie and not just the mama in me. I've quoted it many times but truly, "How Not to Lose Your Shit with Your Kid," changed me.
Changing Your Parenting Style
After I realized I couldn't keep up the same pace of my "perfect parenting," and with two children under 2, I gave myself a hell of a lot of grace. I let myself fail, break my own rules, and most importantly spent time taking care of myself too. I was able to keep the things that were important to me for Henry and Declan. This looked like eating whole foods, limited TV time (none for Declan he was not yet 1), being present when I was with them, and allowing myself some alone time when we were home together. This felt good. Really good. Enter Shelter in Place. Without my village, it all fell down.
I had gotten into this groove with my children because I allowed myself access to support. I made sure I didn't expect myself to be with my children 110% of the time. My children went to who I consider their second mom's house (Dana!) three days a week. Martin and I were rocking date nights at least every other week. I was going to the gym. I was regularly cooking at home (while still appreciating occasional restaurants). I was balanced. I was happy with myself, my parenting, and so grateful for our new son Dametrius finally coming home. Then, overnight, it was just our family and our responsibilities increased as a family increased exponentially.
I'm pretty lucky in the sense I had already laid the foundation with myself that it was OK not to be perfect as a parent. That to be a mama didn't mean to be on point every second of the day. But a big piece of this was letting myself have some alone time. With sheltering in place, alone time is SO much harder to achieve. My husband works 40 hours a week from home with little relief from his work to help with childcare. Owning my own company means I have to be the flexible one with fitting my work schedule around the kids. It also meant I'm with our boys way more than my husband. I'm learning how to teach our new 8th grader. Dametrius just moved into his new home, so I had no idea what he knew academically.
Add my own hippie heart of loving organic foods (but not able to go to the store), limited technology, and being present to everything else and you'll realize this was a tall order!
So I did something radical. I'm serious, this was big for me. I threw away my script. Seriously! I decided that the most important thing was something I already knew after healing from postpartum depression and parenting two very young children. It's love. That's it. Love is all my children need to grow and thrive.
Realizing What's Important as a Parent
Don't get me wrong. There are still things that are very important to me as a woman and mama. But if I kept up with my pre-COVID rulebook I was going to crash and burn. Honestly, looking back, I don't know how I wasn't crashing and burning anyways! Sure, I had help, but my expectations were sky-high. So now I expect failure from myself and my kids on a daily basis. We fail, we cry, we kiss, and we move on.
I still want my children to eat well but, honest to God, cooked my first boxed mac and cheese for them ever. I still want them to play in the dirt more than behind a screen but we have movie night every night. I still want to be present with my kids but I allow myself to check emails on my phone while drinking coffee each morning. Some days we have free days. This means jammies all day, movie mornings, coffee, and picking up a toy or something small in a pickup order. I'm resting for myself, eating as well as I can, and moving or getting any exercise when I have a few minutes for self-care. When I can't do these things I give my heart a big hug.
Mostly, I've realized that while my village made my pace possible it wasn't what my heart wanted. Being home with my children for this amount of time has taught me to follow their needs and my own together. I'm not the mama I was before COVID. I'm messier, louder, and I cry a little more. But you know what? In accepting imperfection I'm happier too. I hope through reading this that perhaps you can love your imperfections in parenting too. And hey, maybe you'll become a bit closer to your authentic self.
Xoxo,
Jessie